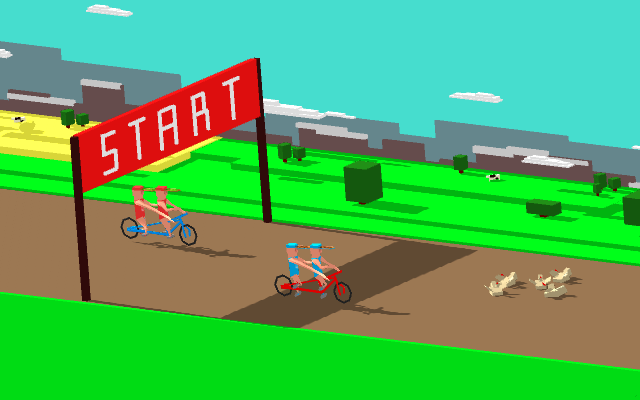 Double Trouble
Double Trouble - It's a tandemic!

NB: Added a 'postjam' version with minor graphics and audio fixes. The web players is the latest version.

Four player tandem bike action! Race across four amazing worlds.
Use two xbox controllers.Roll both thumbsticks the same direction to drive, put enough distance between your team and your opponent to win! Press triggers to turn to avoid chickens and other drivers.
Share your controller with your team mate, one friend using the right stick and right trigger, the other using the left side. Obviously!
Press Escape to restart.
Press Q to quit.
(If you don't have any controllers, two people can play the game with the W,A,D and I,J,L keys)

Made in Unity in 48 hours for the Nordic Game Jam 2015 by:
Nick "The Crusher" Rockel - Graphics
Iliana Pavlova - Graphics and code
James Clark - Code
Bjørn Dam Larsen - Music and sound design
Kristian Torgard - Code
Download
Install instructions
The Linux version is untested.